Table of Contents
PDF (Portable Document Format) files are a popular format for sharing documents due to their compatibility across different platforms and devices. However, large PDF files can be cumbersome to upload, download, and share. To overcome this challenge, compressing PDF files becomes essential. PDFHelp is a well-regarded online platform that provides efficient tools to compress PDF files without compromising on quality. In this article, we will explore the benefits of compressing PDF files and guide you step-by-step through the process on PDFHelp.
Benefits of Compressing PDF Files
Reduced File Size
Compressing PDF files significantly reduces their size, making them easier to store, upload, and share over the internet or via email.
Faster Upload and Download
Smaller file sizes lead to faster upload and download times, enhancing productivity and improving user experience.
Bandwidth Savings
Compressed PDFs consume less bandwidth, which is especially valuable when dealing with limited internet connections.
Improved Storage Efficiency
Compressing PDF files allows you to save space on your computer or cloud storage, enabling you to store more documents.
Email Attachment Ease
Compressed PDF files are ideal for sending as email attachments, reducing the risk of encountering email size limitations.
How to Compress PDF Files on PDFHelp
1. Access PDFHelp Website
Visit the PDFHelp website using your preferred web browser. You can find the platform at www.pdfhelp.com.
2. Upload Your PDF File
Once on the PDFHelp homepage, click on the "Compress PDF" option or navigate to the "Tools" section and select "Compress PDF" from the dropdown menu. Click on the "Choose File" button to upload the PDF file you want to compress from your local storage.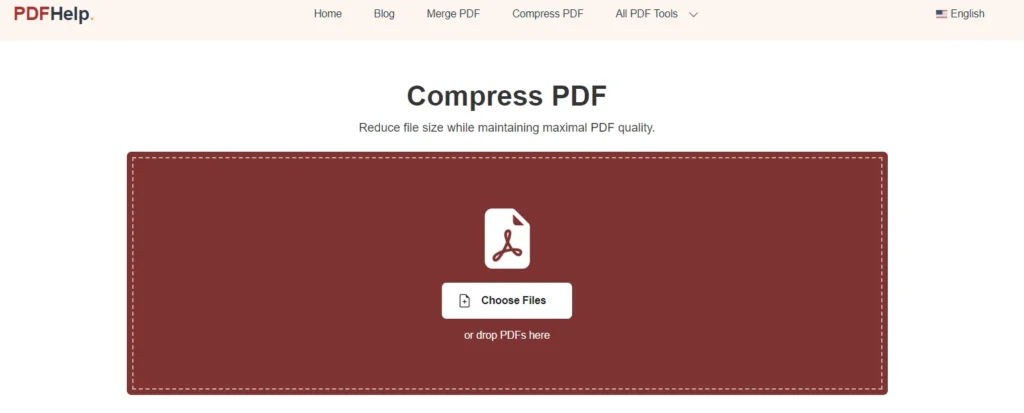 3. Select Compression Options
PDFHelp offers various compression options to suit your needs. You can choose between different levels of compression, such as low, medium, or high, depending on your preference for file size reduction and quality retention. The platform also provides options to remove unnecessary elements like images, bookmarks, annotations, or forms, further optimizing the compression process.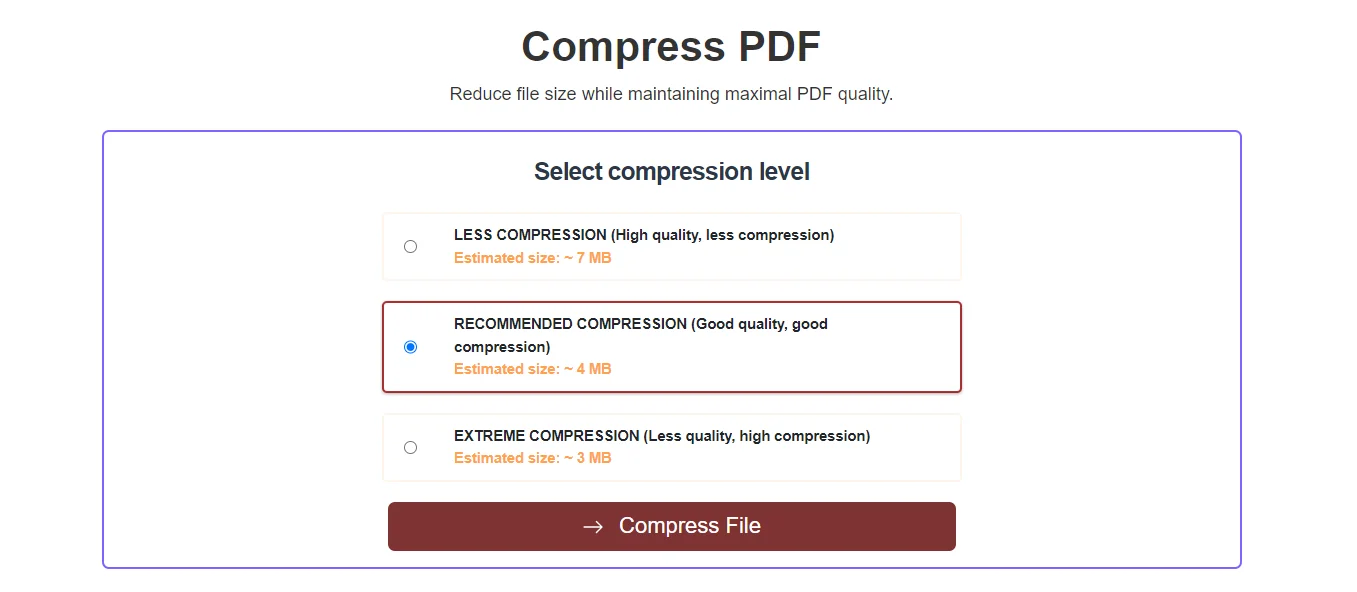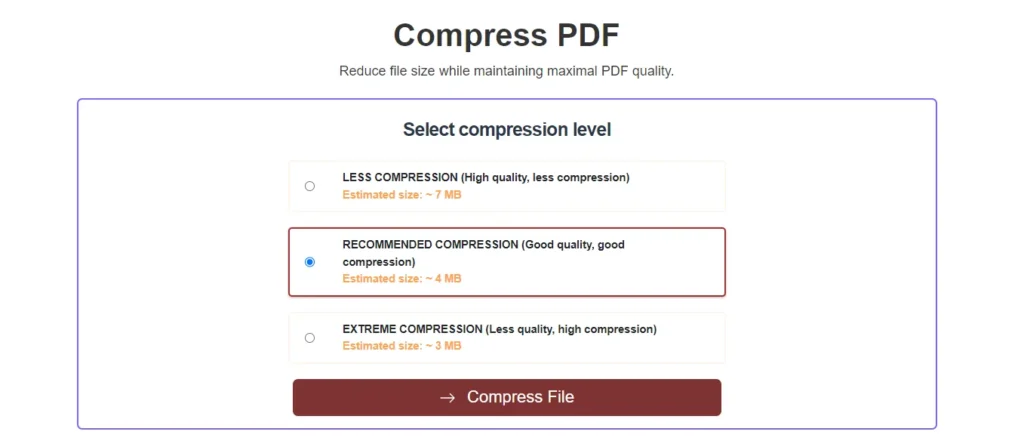 4. Start Compression
After selecting your desired compression settings, click on the "Compress PDF" button to begin the compression process. PDFHelp will initiate the compression algorithm, optimizing the file without compromising the document's integrity and readability.
5. Download the Compressed PDF
Once the compression is complete, PDFHelp will provide you with a link to download the compressed PDF file. Click on the link to save the file to your computer or preferred cloud storage service.
Additional Tips
Batch Compression
If you have multiple PDF files that need compression, PDFHelp also offers a batch compression feature, allowing you to upload and compress several files simultaneously.
Qulity Preview
PDFHelp often provides a quality preview of the compressed document before you download it, ensuring that you are satisfied with the results.
Secure File Handling
PDFHelp ensures the security and confidentiality of your uploaded files. Your documents are processed securely, and no copies are retained on their servers after the compression process.
Correct, many users trust PDFHelp online PDF compressor because it is safe and secure. The platform automatically deletes files one hour after uploading, ensuring data privacy and confidentiality.
Compress PDF easily
Compressing PDF files on PDFHelp offers numerous benefits, including reduced file size, faster upload and download times, and enhanced storage efficiency. By following the simple steps outlined in this article, you can effortlessly compress PDF files without compromising on quality. Whether you need to share documents via email, upload them to the cloud, or optimize storage space, PDFHelp's compression tools are an invaluable resource for efficient PDF management. Give it a try and experience the convenience and advantages of compressed PDF files today!
how do i reduce the size of a pdf file?
To reduce the size of a PDF file, use online compression tools or software with built-in compression features. Optimize images, remove unnecessary elements, and consider converting to other formats before converting back to PDF for smaller file size.
how do i compress a pdf to less than 10 mb?
To compress a PDF to less than 10 MB using PDFHelp, upload your file, choose the high-level compression option, and download the optimized PDF. PDFHelp offers three levels of compression, including high, medium, and low.
how to zip pdf files?
To zip PDF files, use a file compression tool or software that supports creating ZIP archives. Simply select the PDF files you want to include, right-click, and choose the "Add to ZIP" or similar option. Alternatively, use an online file compression service to group multiple PDFs into a ZIP file.